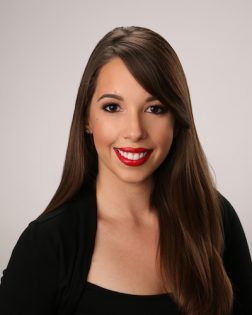 Katrina is an Escrow Assistant at our Glen Oaks Escrow- Sherman Oaks office and has been with us for almost three years. During this time, she's contributed a great deal to the success of our escrow officers and happy clients.
On a daily basis, she supports our Escrow Officers with the very important tasks that are part of an escrow going smoothly and efficiently. Her constant desire to help out wherever she's needed and genuine interest in learning are just a few reasons why we're so grateful for her.
Meet Katrina!
What is your favorite thing about working at the company?
Everyday is never the same. You are always learning something new.
Tell us what a typical day at work for you entails.
Assisting the Escrow Officer with preparation of loan documents to be signed, satisfying funding conditions, balancing and closing out escrows.
What motivates you?
Learning more every day about escrow.
How long have you been in the industry?
2 ½ years
What is the one thing you can't resist?
Trying not to buy Beauty and Beast stuff.
What's the best book you've ever read?
The Harry Potter series.
If you had to eat one meal every day for the rest of your life, what would it be?
Gluten-free waffles with peanut butter and bananas
If you could do another job for just one day, what would it be and why?
Social Media Director for Disney Parks.
What's one item on your bucket list that you can't wait to check off?
Going to Club 33 in Disneyland. I am a Disney Nerd!
---
Katrina, on behalf of everyone at Pango Group, we wanted to thank you for all that you contribute. We are so thankful for you, your dedication to supporting the team and your positive energy. We look forward to many more years together!