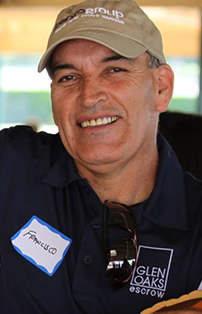 Francisco manages General Services at our Glen Oaks Escrow Glendale office. He's been with our company for over seven years, and we're sure that everyone in the office would agree that the office wouldn't be nearly as productive or enjoyable without him!
On a daily basis, Francisco eagerly assists other team members to ensure they can be as efficient in their roles as possible. In addition to his awesome work ethic and jovial personality, he's also a marathon runner and makes some of the best tamales we've ever had.
Meet Francisco!
What is your favorite thing about working at the company?
Helping everybody!
Tell us what a typical day at work for you entails.
To do the best from me in favor of this company.
What motivates you?
To come to work and see all my co-workers!
How long have you been in the industry?
About 18 years.
What is the one thing you can't resist?
I cannot resist saying no when coworkers needing my help!
If you had to eat one meal every day for the rest of your life, what would it be?
Pasta with white clam sauce.
If you could do another job for just one day, what would it be and why?
I would like to do the owner's job and make tons of money.
What's one item on your bucket list that you can't wait to check off?
One item that says that I have done what I needed to have done.
---
Francisco, on behalf of everyone at the office, we want to thank you for all of your hard work and for being the wonderful person you are. We are extremely grateful for you and look forward to many more years of having you on our team!