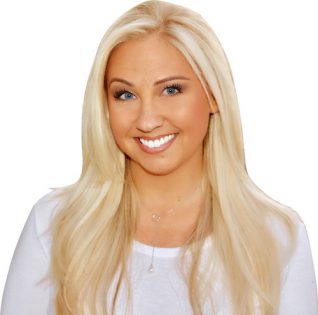 It's our pleasure to introduce you to Hallie!
She's one of our Business Development Representatives at our Glen Oaks Escrow office in Laguna Niguel. She's been with us four wonderful years and is a huge asset to our company and clients!
Meet Hallie.
What is your favorite thing about working at the company?
I seriously love what I do for Glen Oaks Escrow, so that's probably my favorite. Alongside that, I absolutely love the people I work with!
Tell us what a typical day at work for you entails.
Everyday is different for me. Throughout the week, I attend broker preview meetings, marketing meetings at the board, and one-on-one meetings with REALTORS® and escrow officers. I love that no day is the same. It keeps my job new, different and exciting.
How long have you been in the industry?
I've been a licensed Realtor since I was 19.  
What is the one thing you can't resist?
Sushi. I would eat it morning, noon and night!
What's the best book you've ever read?
I read 2-3 books a week! I don't think I have a favorite!
What motivates you?
Doing a good job and achieving the desired end result is my primary motivation. I'm particularly motivated by the buzz of working in a team. It's very rewarding working closely with others who share the same common goal.
If you had to eat one meal every day for the rest of your life, what would it be?
Sushi!
If you could do another job for just one day, what would it be and why?
I would be Elon Musk for the day, so I could get a glimpse into what cool things he is currently creating.
What's one item on your bucket list that you can't wait to check off?
Buy a house so I can get my daughter a puppy ?
---
Hallie, from everyone at Pango Group, thank you! Your drive, motivation and charismatic spirit are such huge contributors to our team and clients.