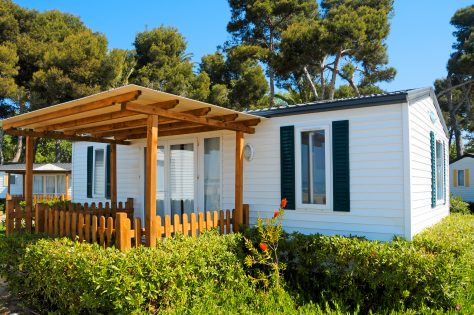 Question: Cynthia, I am listing a mobile home in a "senior's only park", for the family member of a long time client.  What do I need to know about mobile homes?
Answer: Manufactured or "mobile" homes come in a lot of different forms.  Many Manufactured Homes are in mobile home parks, where the site of the mobile home (or "space") is leased by the homeowner.  Manufactured homes can also be found in other settings, such as rural properties, some subdivisions, office space, and temporary commercial use (such as a construction office), etc.
For the sake of this article, I will stick to describing the process of the sale of a residential manufactured home in a mobile home park, and I will refer to the dwelling as a "mobile home".
As the listing agent of a mobile home, here are a few things to look out for:
Mobile homes are NOT real estate, and therefore, there will be no title insurance company involved.
Termites seem to love to eat mobile homes, so having an inspection during listing is a very good idea.  It doesn't mean that the seller has to do the work, but at least the seller is aware and can tell the buyer what the scope of the problem is, or make sure an offer takes into account the cost of the work. Termite work on a mobile home, including tenting, costs about the same as similar work on a house.  As a percentage of the sales price, the cost of termite work can be much more significant to a mobile home seller.
Buyers of a mobile homes must qualify for approval from the Mobile Home Park.  The Mobile Home Park is NOT a Homeowner's Association, it is a lease agreement for the rent of the space in the park for the mobile home.  Mobile Home Parks will check income and credit, sometimes background history, the ages and number of planned residents, and even, get ready for this, the size and breed of the perspective resident's dog!  The park manager will provide an application with a list of requirements to the buyer, and will generally schedule an interview for the buyer.  I always remind buyers that the park manager may well end up being their neighbor, so treat it like a job interview!  Keep in mind that a buyer who might qualify for a mobile home loan, might not qualify for park approval, so getting the buyer approved by the park is the first order of business when you receive an offer.
Financing for a mobile home is offered by a very specific type of lender.  If you get an offer with a pre-approval letter from a Mortgage Lender, it means that the buyer's agent doesn't understand financing of the mobile home, and very likely, the Mortgage Lender doesn't realize it is a mobile home.  The mobile home loan process easily takes 45 days to get to docs, and the funding process can be "sloth-like", so be prepared to have a little patience.
Mobile homes are not conveyed by deeds, the title to a mobile home is registered with the California Department of Housing and Community Development (HCD), and is similar to car registration with DMV, but not exactly.  Escrow will need copies of the seller's existing certificate of title (think "pink slip", but not exactly), and annual registration in order to get the process going.  It is a good idea to see if the seller has those items right away when you list, because in some cases we will need to get a duplicate from the State of California in order to close the escrow, which can take WEEKS.
Mobile Homes cam serve a need to provide housing in our expensive Southern California marketplace to people who might not otherwise be able to afford their own homes.  You may have the opportunity to meet "move down" buyers, which would give you the opportunity to also list their existing homes.  Because many mobile home parks serve an elderly population, it will give you opportunities to make connections with the grown families of the buyers and sellers, which can be a great source of referrals.  Don't be afraid of a mobile home, as long as you work with an Escrow Officer that can guide you through the process.  Glen Oaks Escrow is there for you!

Cynthia Moller
661.362.0400
cmoller@glenoaksescrow.com