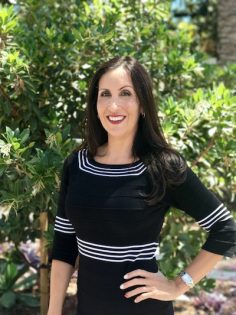 Marlene Pardo is one of our awesome Escrow Officers! She works at our Glen Oaks Escrow office in Laguna Niguel and has been with us for three wonderful years.
On a daily basis, Marlene exhibits her passion for serving our clients in everything she does! These positive contributions are not only recognized by our clients, but also everyone she interacts with internally and externally!
Meet Marlene!
What is your favorite thing about working at the company?
My favorite thing about working at GOE is the sense of family and amazing support from everyone in the company.
Tell us what a typical day at work for you entails.
A typical day entails lots of emails, phone calls and juggling of work. The day never looks like the last one.
What motivates you?
My children motivate me.
How long have you been in the industry?
24 years
What is the one thing you can't resist?
I can't resist raw dough; from cookie dough to cake & brownie batter, I'll always have some if it's available.
What's the best book you've ever read?
Sorry, but I don't like to read.
If you had to eat one meal every day for the rest of your life, what would it be?
My one meal every day for the rest of my life would be grilled chicken with roasted potatoes and a salad.
If you could do another job for just one day, what would it be and why?
I would like to be a veterinarian for a day because I love animals.
What's one item on your bucket list that you can't wait to check off?
I would like to travel to Chile one day.
---
Marlene, we wanted to thank you sincerely for everything that you do. Your dedication to our clients' best interests and teamwork within the organization help make us the company we are, and for that, we're extremely grateful for you.