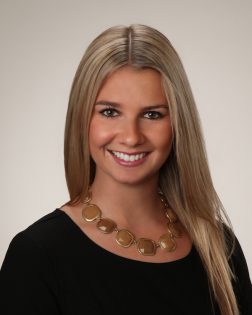 Business development is a crucial part of any business, so we're extremely lucky to have Lauren!
For over four years, she's worked at our Glen Oaks Escrow  Glendale and Sherman Oaks offices, serving as a Business Development Representative.
Besides being awesome in her role with our team, Lauren also serves on the Young Real Estate Professionals Board and Commercial Investment Committee and is also the Director of Membership for the National Association of Hispanic Real Estate Professionals, and a member of Women's Council of Realtors and the Asian Real Estate Association.  
It's clear that Lauren is passionate about what she does and genuinely cares about providing the best to each and every relationship she is involved in.
Meet Lauren.
What is your favorite thing about working at the company?
Everyone feels like family.
Tell us what a typical day at work for you entails.
Driving up and down Ventura Blvd.

Getting my escrow officers escrows from the realtors, lenders and commercial brokers in the Valley
What motivates you?
To beat my numbers from the year before.
How long have you been in the escrow industry?
4 years + 3 months
What is the one thing you can't resist?
Gold Medal Ribbon Ice Cream
What's the best book you've ever read?
I loved the Five Love Languages
If you had to eat one meal every day for the rest of your life, what would it be?
Sushi
If you could do another job for just one day, what would it be and why?
Food taster
What's one item on your bucket list that you can't wait to check off?
Having a baby
__________________________________________________________________________
Lauren, we wanted to thank you for all that you do to support the Glen Oaks Escrow team and our clients on a daily basis. We're truly grateful for you!