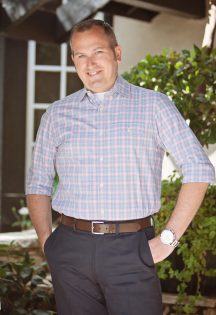 For nearly three years, Christopher has served as Lead Escrow Officer and Branch Manager at our Glen Oaks Laguna Niguel office.
He's played a crucial role in the success of the branch and has earned the respect of not only the escrow officers he leads, but also the clients he serves.
One thing is clear… Christopher is a master of managing a variety of responsibilities with gratitude, passion and a sincere love for what he does each and every day in his role.
Meet Christopher!
What is your favorite thing about working at the company?
The People – having the best support and working with the best management team around! Cannot be beat.
Tell us what a typical day at work for you entails.
Preparing new escrow instructions

Calling Buyers and Sellers to introduce myself and walk them through the new escrow process

Marketing efforts

Handling 1,000 sent/received e-mails, taking calls, accepting walk-in, managing a team of 12 escrow professionals

Addressing their questions and needs as they arise, preparing closing statements for closed transactions

Congratulating Buyer/Seller and Agents on a closed escrow!
What motivates you?
I am a people-pleaser – so helping Buyers, Sellers, and Agents in meaningful ways is what motivates me. Their success is my motivation and knowing that we have helped someone in a positive and service-oriented way is the best feeling out there.
How long have you been in the escrow industry?
16-years
What is the one thing you can't resist?
Freshly baked sweets – chocolate chip cookies (or any cookies, really!) and brownies!
What's the best book you've ever read?
"What Got You Here, Won't Get You There" – definitely a wake-up call to constantly improve myself, my process, and my relationships
If you had to eat one meal every day for the rest of your life, what would it be?
TURKEY SANDWICHES! 🙂
If you could do another job for just one day, what would it be and why?
I would love to experience being a teacher for a day – but honestly, I feel like I get to educate in my current role and that is very fulfilling. Maybe being an Architect?
What's one item on your bucket list that you can't wait to check off?
Growing my family!

---
Christopher, on behalf of everyone in the Pango Group family, thank you for your dedication, and all of the contributions you make to our team and clients daily!